Inonda is the radio automation software for your personal web radio.
Easy to control from pc's or mobile devices.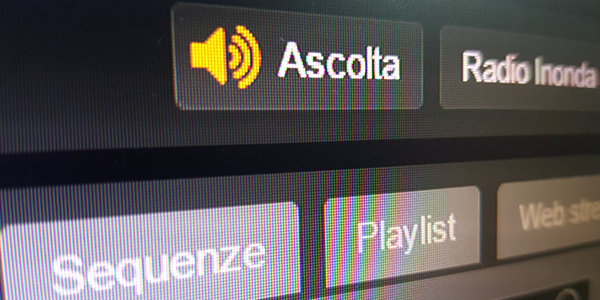 Your radio automation always online
Inonda is an online service you can activate with a monthly or yearly subscription. You don't have to install software on your device to manage your web radio.
One account, lots of stations
Inonda won't limit your desire of radio! Just with one single account you can create many stations, immediately and with ease of use: there could be thematic channels for different musical genres (classic, dance, rock, Italian, rap, ecc…) or for different audience (sports, manager…) depending on your needs. One single account, lots of stations, all in the cloud.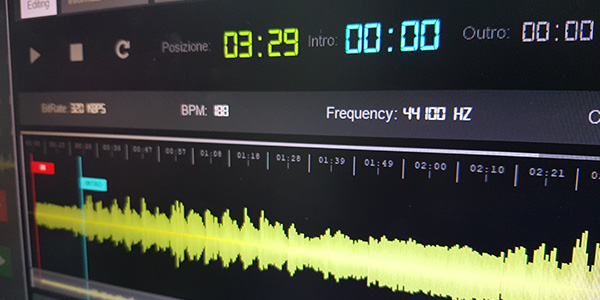 Professional editing
Inonda is not an auto DJ platform, but a real radio automation platform on which every single song can be edited and mixed independently with extreme precision, with perfect cross-fading effects during playback.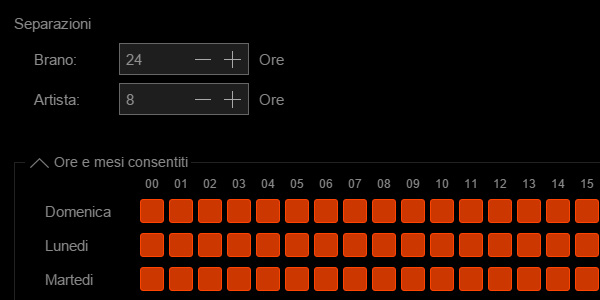 Loopless music
To allow your music to rotate in the best way, we have implemented rules so that each rotation is never the same of the previous. The rules are customizable for each song, group of songs, and categories.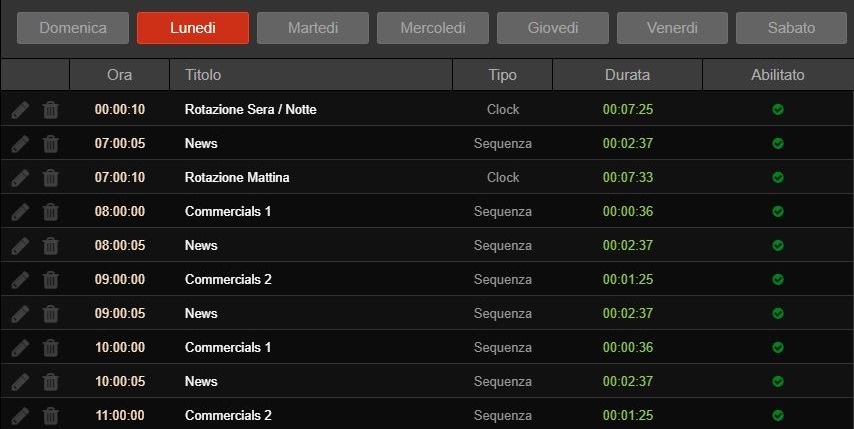 Create your schedule
With Inonda you have the possibility to program your events by deciding the day and time when they will be transmitted automatically.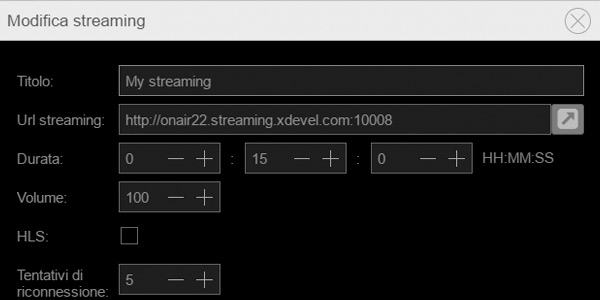 Live stream on the cloud
Do you want to stream your live-show, such as a sporting event, a concert or a rally on the cloud? With Inonda you can plan an external stream in your main playlists and stream it on a certain day and time.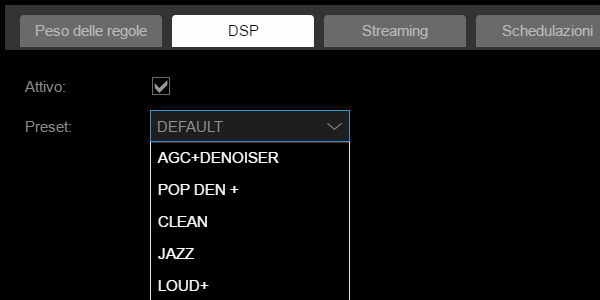 Uniform output volume for music and commercials
You know when during your listening the volume goes suddenly up? With Inonda this will not happen: our software includes a DSP (digital signal processor) that takes care for constants volume and equalization. To make your radio different from others.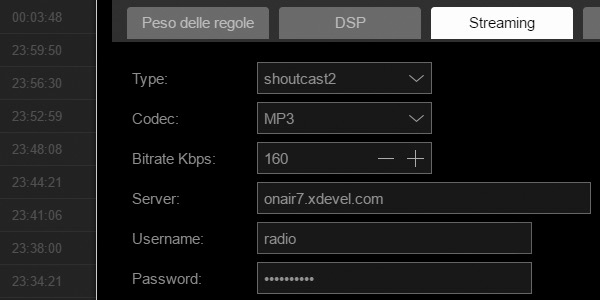 Solid streaming, without limits
Our monthly streaming plan allows you to stream easily without annoying glitches, and especially without audience limit allowing you to choose between quality and bandwidth consumption.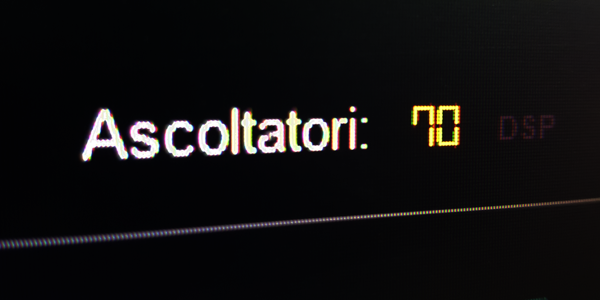 Your radio 24/7
Even without internet connection available your radio will stay always online, 24/7 thanks to our servers that guarantees more than 99,9% uptime.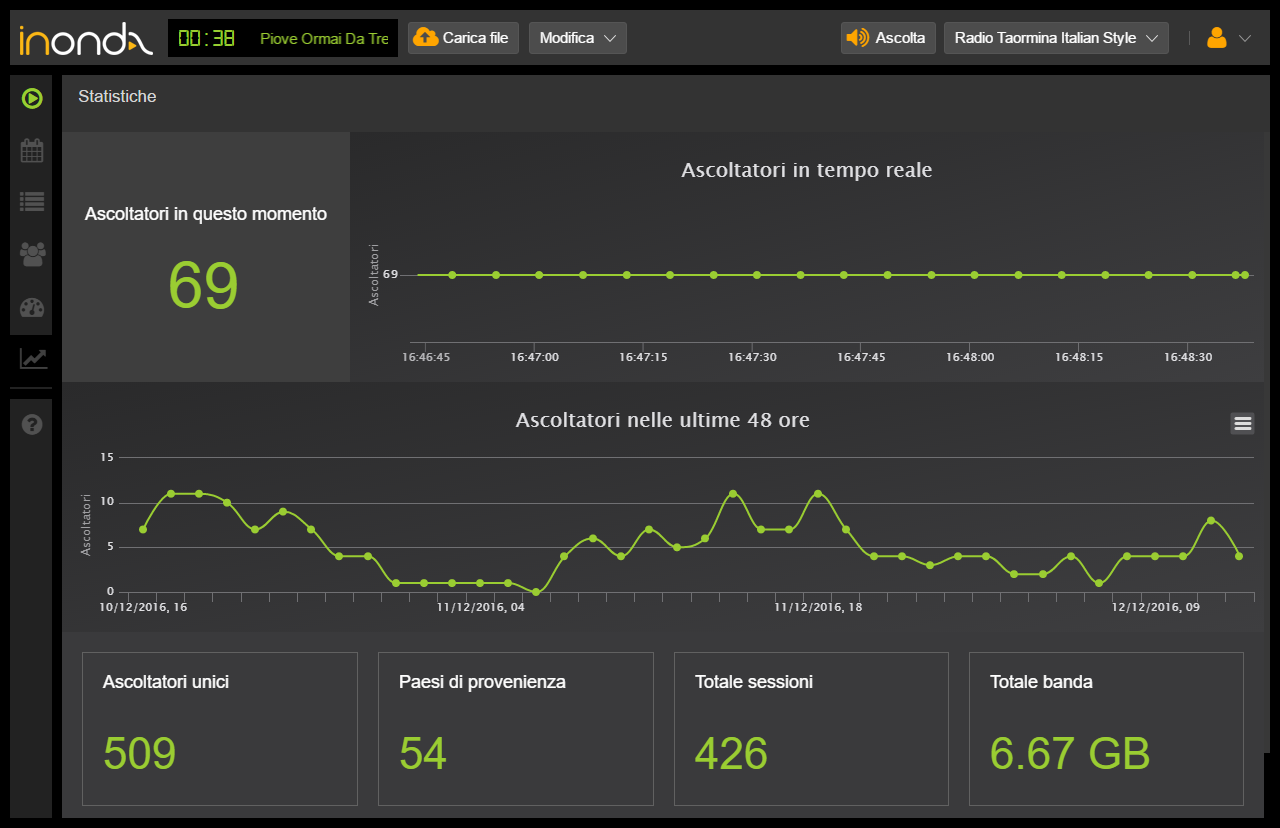 View your statistics...
With your dashboard –available from your personal area- you can always see how many peoples are listening at your station and their location. You can also view your daily, weekly and monthly statistics or your period of interest, so you will immediately see your audience peaks and thereby determine what they like at best. Your always up-to-date data will help you to choose the best for your needs.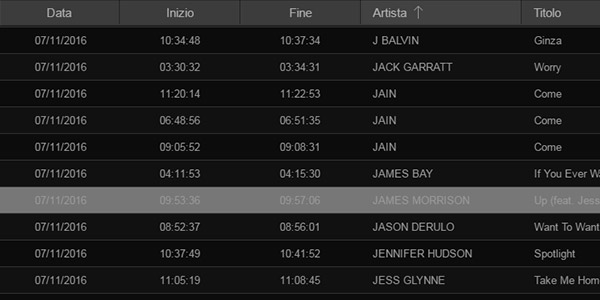 … and history of your radio
Do you want to view the history of the songs you've aired in the past? With our reports you can view all the history of your radio schedule. By comparing this data with your statistics, you will have a detailed overview of your radio.
Because numbers will make the difference.
Go live with LiveDJ
With the LiveDJ plugin for Windows and Mac you can connect a microphone or mixer and go live with your voice or broadcast a mixed program.
You will also be able to control and manage the audio reproduced in real time from the station. In this way you will inform your fans on Facebook and followers on Twitter and Google+ about the song being played in real time and take them to tune in to your radio immediately.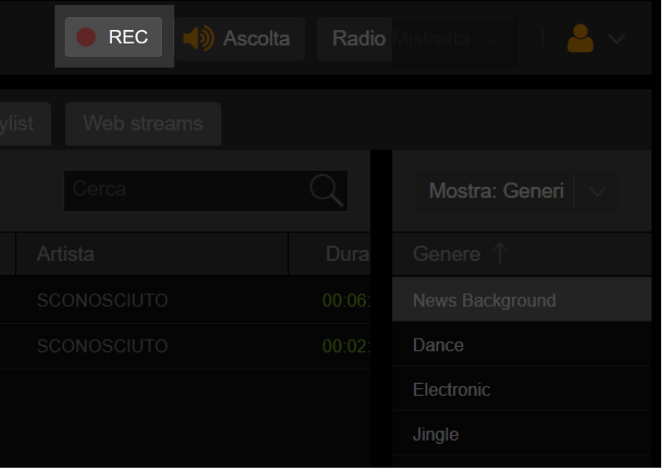 Record your live broadcasts
With the REC function you can record your live broadcasts. Editing them and automatically scheduling reruns is child's play. You can also download the recording to turn it into a podcast to share on social media. REC functionality is available on all plans.

Automate your file downloads
With Inonda you can plan and perform the automatic download of news and columns to be broadcast on your station.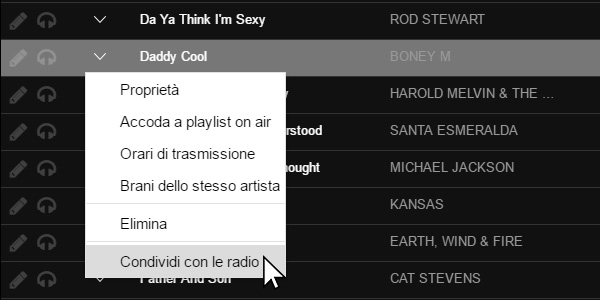 A unique library for all your stations
With the shared library, you have to load your song only once and with a single click you can share it with all your stations. You can customize specific elements for each broadcasting station such as on-air rules and even editing. For example the same song could be scheduled several times on one station and less in others, or played entirely in one station and partially in others.
Because numbers will make the difference.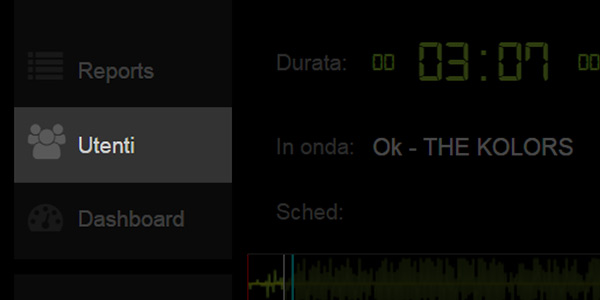 For a cooperative management
We do know well the importance of a teamwork in a radio, this is why Inonda simplifies the collaboration of all members, wherever they are. The "roles" and "shared library" allows every people involved in your team to manage the station. Every plan consist of a certain number of users, for each of them you can assign a role such as station manager or deejay.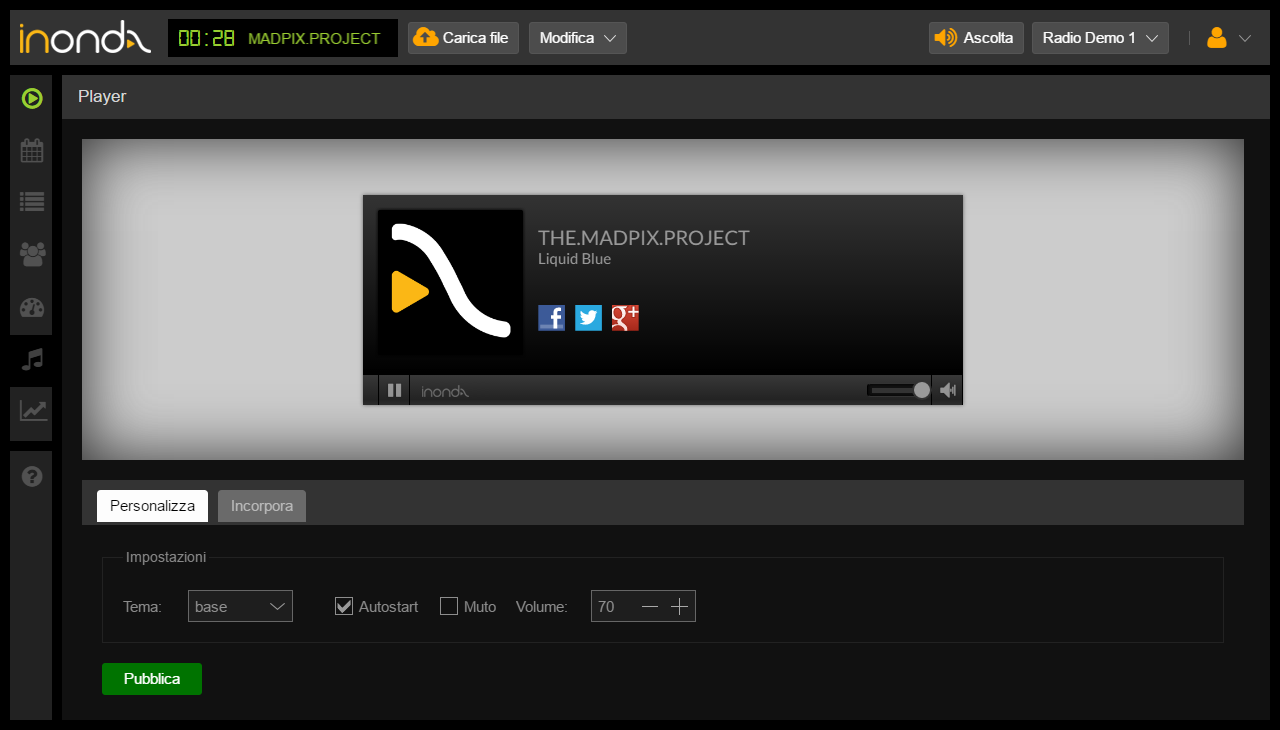 More social!
IBy implementing our universal player on your web page, your radio can be listened from a computer or mobile device. With Facebook integration you can even play your radio from your fan page. With the player is also possible to share your song in the social networks with all related tags (title, artist, year…). So all your friends and followers on Facebook, Twitter and Google+ can be informed instantly and invited to listen to your radio.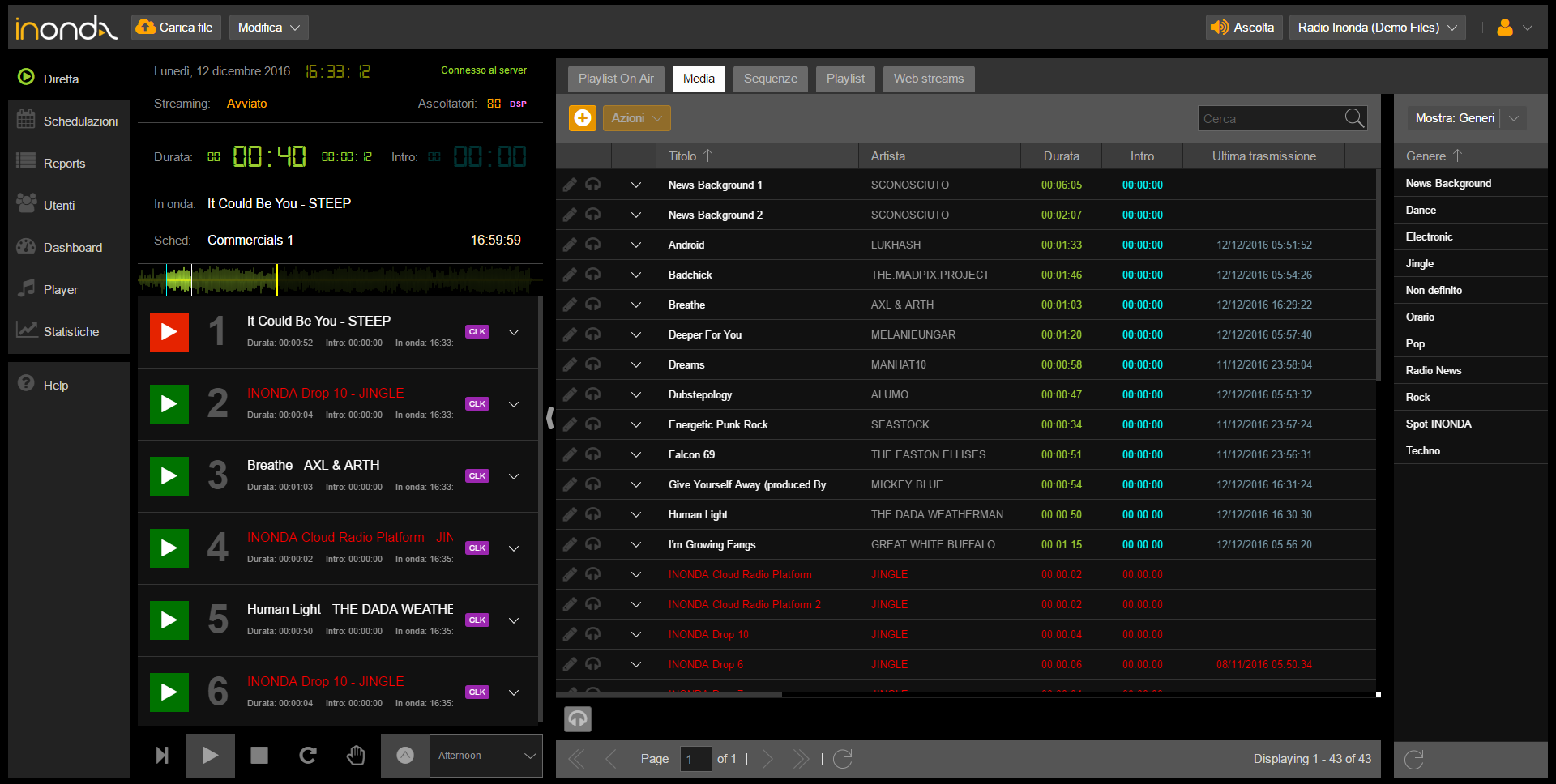 Take care of your finance
Manage a radio can be very expensive. With Inonda you have all you what you need to stream your music, commercials and special offers with a powerful and affordable radio automation software. You just need an internet connection!